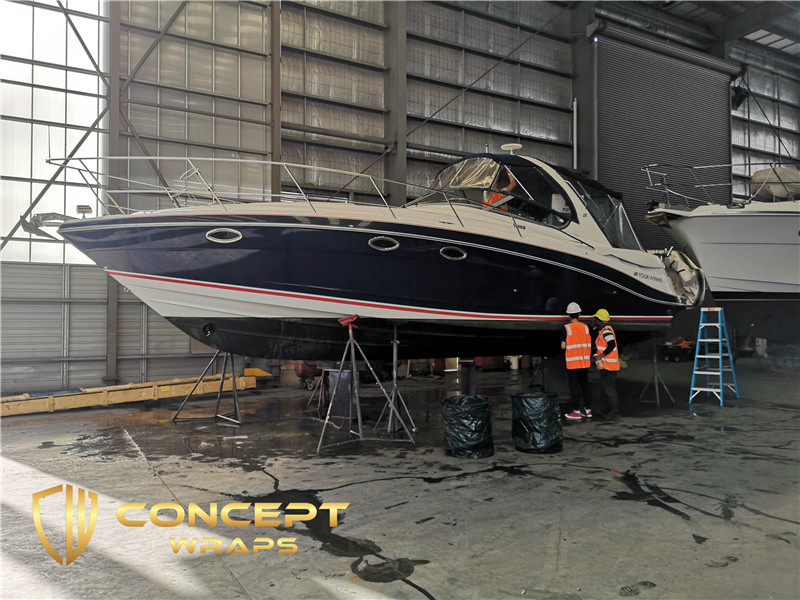 Vinyl Boat Wrap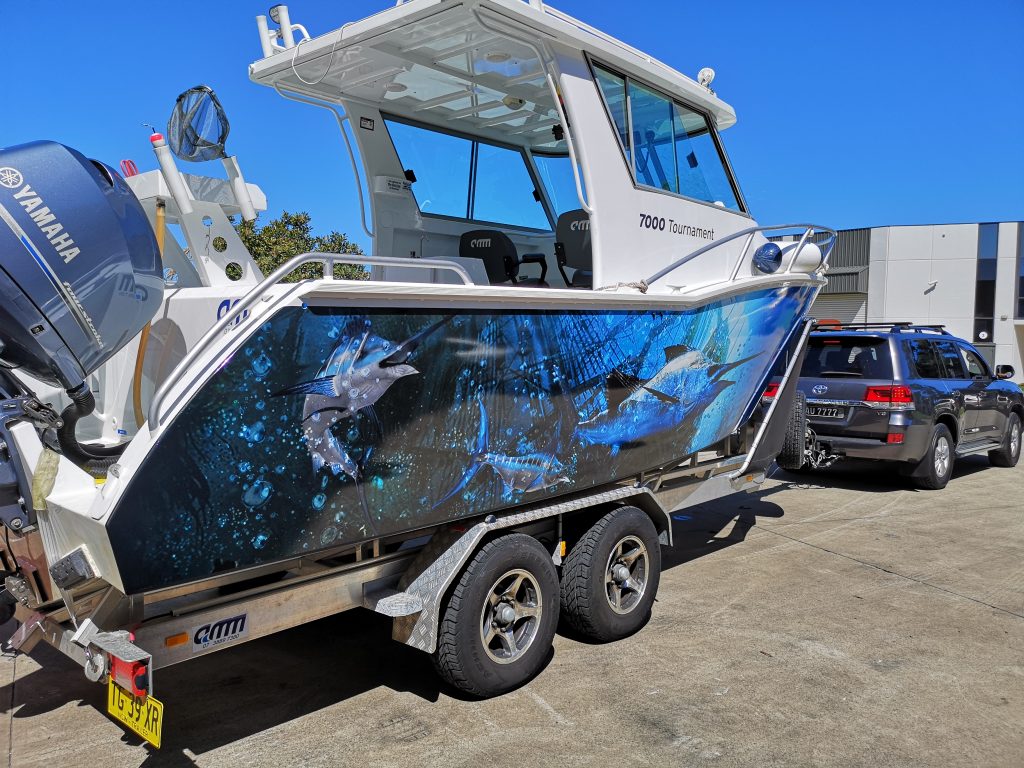 About Boat Wrap
The vinyl wraps are not restricted to vehicles and storefront windows, but also available for the boat. To satisfy the standard of boat wrap in the extreme marine environment and strong UV condition, we only use premium marine-grade quality materials that are proven and resistant to the harsh conditions of saltwater abrasion. That premium marine vinyl and laminates we use can ensure the boat wrap lifespan longer and remain the original color and pattern of the boat wrap. Whether you are looking for a simple boat wrap name, boat wrap images, or full boat wrap graphic design, our experience both designing and installing boat wrap professionals will assistant your requirements with a high level of customer services and quality products.
The benefits of Boat Wrap
Protect Your Boat's Original Paint and hull.
As the year passes by, the boat has experienced a harsh marine environment and usually has been scraped, faded, and showed signs of wear. The boat paint repair is costly as the boat is an expensive asset. Instead of repainting the boat whether for boat damage repair or aging protection, many boat owners prefer to install the professional boat wrap because it not only able to prevent environmental erosion but also can withstand normal wear and tear.
Economical custom design but the quality result
To stand out your boat with custom design, the Vinyl wrap is efficient and cost friendly. Instead of printing, the vinyl wrap allows the customer to preview the pattern before print. Thus, the design can be adjusted with any detail as you want. The vinyl wrap also offers a variety of special colours and textures such as matte, satin, gloss, and metallic finish to meet your unique design needs. Compare to the limited options of printing, vinyl boat wrap can transform your design directly to reality.
Additionally, you don't need to worry that the result of the vinyl wrap will look tacky because, with the advancement in material and printing technology, the vinyl wrap performs similarly as the waxed gel coat.
Easy to maintain and remove
The biggest advantage for the boat owner to choose vinyl wrap is easy to clean even you wrap a customized design. To clean the boat with vinyl wrap, you only need to mix the gentle cleaner with water such as light soap and dishwashing liquids to erase pigmentation, sea salt, and fishing residue. For heavier removing and surface polishing, the specific plastic cleaner is enough.
Better than the boat painting, the Vinyl wrap is easier to remove and change whether for the entire wrap or small portion. Most of the vinyl wrap can be removed by vinyl wrap remover solvent or heat gun over the surface with proper application. Although it can peel back easily, different methods are required based on the way the wrap installed. So, whatever and whenever your boat needs to repair, it can be easily done without needing to dry dock the boat first.
Environmentally friendly
It is our responsibility to protect the marine environment. Most of the paints contain chemicals which will toxic the aquatic plant and animal life and may also threaten human health and environmental. However, as vinyl doesn't contain chemicals for the application of maintenance and removing, it is an eco-friendly choice compared to painting boats.
HIRE US
If you want specific details on vehicle wraps and car protection, give us a call today or visit our website! We look forward to working with you to assist you with your vehicle wrap.
Concept Wraps provide all forms of vehicle wrapping services. Contact us today to get the best graphics and wrapping services for your vehicle.

Find out more vinyl wrapping works in our Instagram and gallery.