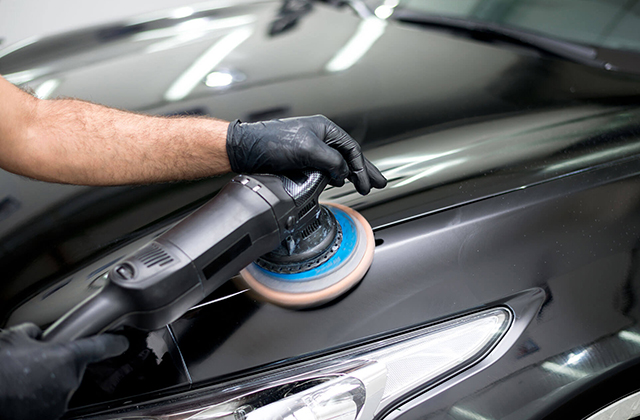 WHAT DOES CAR WAX DO? HOW TO WAX MY CAR?
If you've ever spent part of your weekend washing, drying and waxing your car, you've probably wondered why you were going through all of the fuss – particularly if you started as a youngster helping your dad wax the family car.  He might have told you that it preserves the paint – but that only "scratches the surface" in answering the question, "Why wax your car?"
This article thoroughly explores the practice of waxing your vehicle and answers questions, such as "how does car wax work" and "what's the difference between car wax vs. polish?" So, let's start at the beginning…
CAR WAX IS GREAT FOR PAINT PROTECTION
Car wax works as a light layer of protection for your car paint against the environment. Think of a rain coat in a rain and wind storm – it provides light protection and helps the paint remain beautiful despite the passage of time.
WHAT IS CAR WAX MADE FROM?
There are different types of waxes, but they fall into two main categories: Carnauba and Synthetic waxes. There are different benefits to both – here are the basics:
CARNAUBA-BASED WAX
Carnauba-based waxes are made from the Carnauba palm tree that grows in Northeastern Brazil. The color of the wax is usually light yellow – the clearer the color, the higher-quality the wax. The texture is quite hard when it's in a wax form – but you can also find it in liquid form.
When applied, Carnauba leaves a clear layer of protection. However, this protection can fade with the heat and repeated washings, requiring reapplication every month or two.
Here are the major advantages and disadvantages of Carnauba wax:
Produces a better shine than synthetic polymer wax
Among self-applied paint protectants, Carnauba makes your car look the best
Doesn't last as long as synthetic polymers
SYNTHETIC WAX
Synthetic waxes have only been around for the past 20 years and are easier to apply and buff off than a traditional wax, but it also doesn't provide the same lustrous shine as a Carnauba wax. However, they work more as a paint sealant and offer more protection than natural wax, and they last longer.
Here is a summary of the advantages and disadvantages of synthetic polymers:
Easier to work with than Carnauba wax
Usually, these are less costly than natural wax
Lasts longer and offers more protection
Will not create the same shine as Carnauba wax
WHAT'S THE DIFFERENCE BETWEEN CAR WAX VS. POLISH?
There's often a misconception between wax and polish. As detailed above, wax is a protectant for the car's paint. Polish has a completely different purpose – to clean the paint and surface of the car with an abrasive action.
Polish can remove old top-coat layers and create a more polished look. The products have different levels of abrasiveness. If you're not sure which one works best for your purposes, ask your car care professional.
HOW DO I WAX MY CAR?
No matter which you choose – natural or synthetic – make sure to follow the instructions that come with your product. Before applying wax, make certain to wash your car and remove all of the contaminants from the surface.
You may also want to polish your car to get a shinier look. Keep in mind that the paint serves as a foundation for the wax, and the better the foundation, the better your car will look following the wax.
Wax your car out of direct sunlight to ensure that the surface of your car is cool. Start at the top of the car to apply the wax, and work your way down. Remember – more isn't better when it comes to car wax. Applying a thicker layer of wax versus a thinner, even coat of layer won't impact the outcome. You'll just waste product and create more work for yourself because you'll have to buff more wax off the car after it dries.
HOW OFTEN SHOULD I WAX MY CAR?
This depends upon:
Your environment – heat wears away the wax.
Where you store your car – the wax lasts longer if your car is garaged.
Whether you use Carnauba or synthetic wax – synthetic lasts longer.
In general, it's recommended to wax your car every three months. However, if you live in a hot climate and don't store your car in a garage, consider waxing every other month.
NEXT STEPS
There's no denying the importance of providing a layer of protection to your car's paint, but individuals who invest a lot in their vehicles may want something more than wax.
Paint Protection Films (PPF) can be applied to the surface of your car to provide even greater protection from the elements. The latest advances make PPF nearly impervious while giving your car a hard, glossy look. When expertly applied, the film is undetectable but provides superior protection against light scratches and dings.
If you'd like to learn more about which paint protection option would work for you, ask experienced auto protection professional.
HIRE US
Concept Wraps provide all forms of vehicle wrapping services. Contact us today and ask which auto protection products will maximize the beauty, protection and value of your vehicle.
Find out more vinyl wrapping works in our Instagram and gallery.