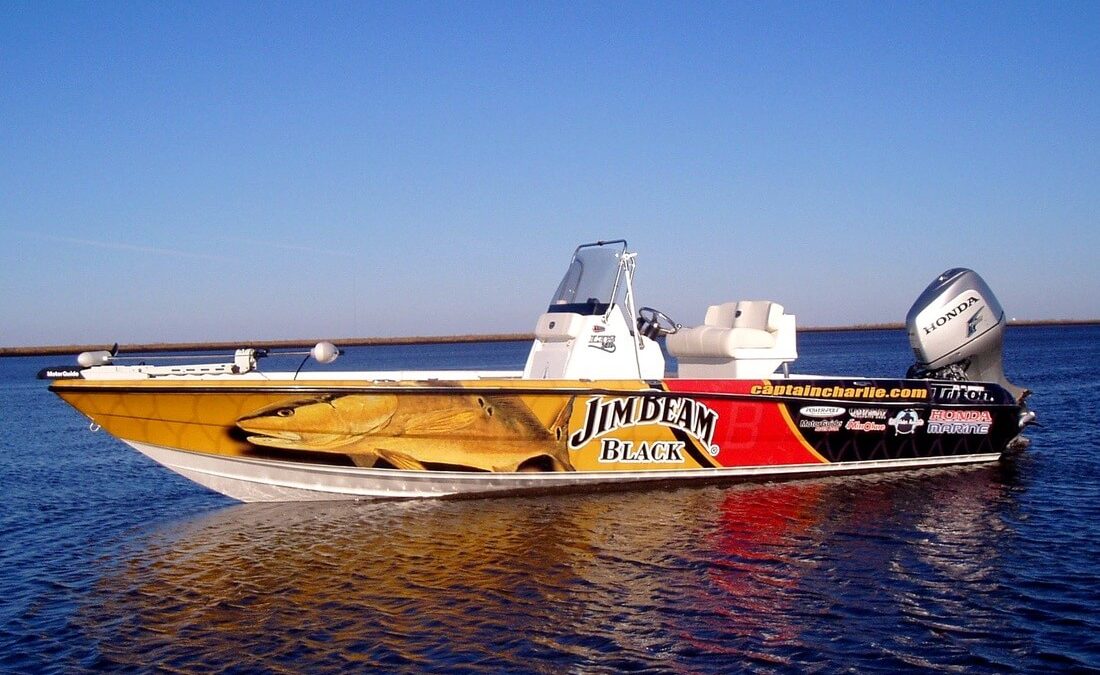 Vinyl Boat Wrap Designs: Everything You Need to Know
Whether you experience the open water in a luxurious yacht, high-end cruiser or sail boat, a sporty salt- or fresh-water fishing boat or a fun-loving pontoon, preserving the look and overall investment of your craft is important. You wouldn't dream of ignoring scheduled engine maintenance, so make sure you guard its appearance and investment value by protecting the boat's surface, paint and undercoat with vinyl boat wrap designs.
PROTECTIVE WRAP
Your boat takes a beating every time it's on the water, particularly if it's a salt-water boat or if you travel on choppy waters. Salt water corrodes unprotected paint and undercoat, and continuous use on any type of open water will begin to show in wear and tear on the boat's surface.
Adding the vinyl film to your boat protects the paint from the sun, salt or fresh water, and scratches that might be caused by rubbing up against the dock or drift wood. A vinyl wrap helps your boat's exterior remain like new.
Keep in mind that preventing damage is easier than repairing it. Covering scratches and gouges in the hull can be complicated and unnecessarily expensive, yet getting a vinyl wrap is much more reasonably priced.
WRAPS THAT MAKE A STATEMENT
Your boat is a representation of you and your lifestyle. Why not make it beautiful, eye-catching or dynamic, so it stands out among the other boats?
Choose a design or color that sets you apart and represents you. And, if you'd like to upgrade the look every year or two, the cost of vinyl film isn't as expensive as a custom paint job, so the price and the effort of an upgrade are relatively easy and inexpensive.
Fortunately, vinyl boat wrap designs provide two solutions in one, by protecting your investment and upgrading your boat's look. This article explores the different types of designs that you can choose from.
GRAPHIC DESIGNS
Set your boat apart from others by choosing an eye-popping, modern, graphic design that draws attention and represents your commitment to live life full-out, be relevant and at the leading-edge of contemporary culture.
Fortunately, today's vinyl kits provide professional detailers all they need to install a beautiful, protective film that looks great. Choose from the many kits that are available, or request a custom design to be truly unique.
SOLID COLOR
Your choice of color can communicate your laid-back vibe, sunny personality or dynamic nature. Or, it could simply be your favorite color.
Fortunately, if your mood changes, you can easily replace one color or design with another. And, you can replace a dark vinyl wrap with a lighter color, so you're not restricted by your last color or design choice.
CLEAR WRAP
If you're happy with your craft's look, but want to take advantage of the protective value of a vinyl boat wrap, choose a clear wrap. This adds a level of protection to reduce the risk of the top-coat, paint and undercoat getting damaged for a lower price than a color or graphic design.
UNIQUE FINISHES
If your attitude is decidedly metal, a chrome finish on your boat tells a high-end, grab-life-by-the-horns story. Choose from your favorite metallic gold, silver or chrome finish.
PARTIAL WRAPS
If you've always wanted a graphic bow that alights atop a solid-colored hull, then partial wraps can customize your craft. A professional detailer can help you install the wraps perfectly, so you create the signature look you want.
SPONSORSHIP WRAPS
Want to add your company logo to your boat? How about your favorite NBA team's logos and colors? Or, if you're lucky enough to have a luxurious or cool craft, you may be able to get paid to sport a company's logo on your bow or stern.
Life is too short to navigate the open water in a generic boat. While you're protecting your investment, get rid of your boat's cookie-cutter look by installing a customized or specially selected vinyl boat wrap. 
HIRE US
Concept Wraps provide all forms of vehicle wrapping services. Contact us today to get the best graphics and wrapping services for your vehicle.
Find out more vinyl wrapping works in our Instagram and gallery.