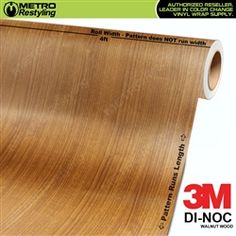 Wood Grain Vinyl Wrap Applications
Rwraps™ Wood Grain Wraps
Wood Grain Wraps are incredibly versatile and can be used for a large number of applications. Although we initially offered these wood grain wraps primarily for use in vehicle interiors as dash wraps , they have taken off in recent years and are now being used in a large variety of other applications. In fact, as the infographic above shows, Rwraps™ Wood Vinyl Wraps are now used as kitchen and bathroom cabinet wraps and to reface furniture. In other words, 51% of the self-adhesive wood grain contact paper that people search for has something to do with architectural and furniture applications. The remainder of searches for wood vinyl result from people looking for sign vinyl that can be cut on plotters for craft and graphic purposes.
Wood Grain Wraps for Cars
Whether you want to get the popular look of a matte finished burlwood or the satin sheen of mahogany wood grain, you can use these Rwraps™ Wood Grain films to quickly and easily wrap the panels of your car, truck or SUV's interior with ease.Whether you decide to remove the panels and trim to apply these wraps or just apply the vinyl in your ride, you'll love how easy they go on with a little bit of heat.
Cabinet Wraps and Furniture Refacing
If you have older Ikea furniture that's seen better days or kitchen cabinets in need of refacing, Rwraps™ Wood Vinyl Wraps are a cost-effective and attractive solution for you. Rather than spending hundreds of dollars at Home Depot or Lowes to get all new cabinets for your bathroom or kitchen, you can refinish what you already have for pennies on the dollar. Check out our step-by-step instruction on how to apply Rwraps™ Wood Wraps to flat furniture surfaces below:
Rwraps™ Wood Grain Features
These vinyl films not only give you an ultra-realistic, woodgrain look but you get great performance as well.
3-Year Durability: When you laminate these Rwraps™ Wood Films you get 3 years outdoor durability. You can use them unlaminated indoor for a minimum of three years but they should last much longer.
3D Grain: These Wood Wraps feature a real, three-dimensional grain that you can feel. In other words, once you apply this film you simply can't tell the difference between it and the real thing,
Green Product: Save trees and energy when you use this film to restore, refinish and reface old cabinetry, aging dashboards and more.
HIRE US
If you want specific details on vehicle wraps, give us a call today or visit our website! We look forward to working with you to assist you with your vehicle wrap.
Concept Wraps provide all forms of vehicle wrapping services. Contact us today to get the best graphics and wrapping services for your vehicle.

Find out more vinyl wrapping works in our Instagram and gallery.