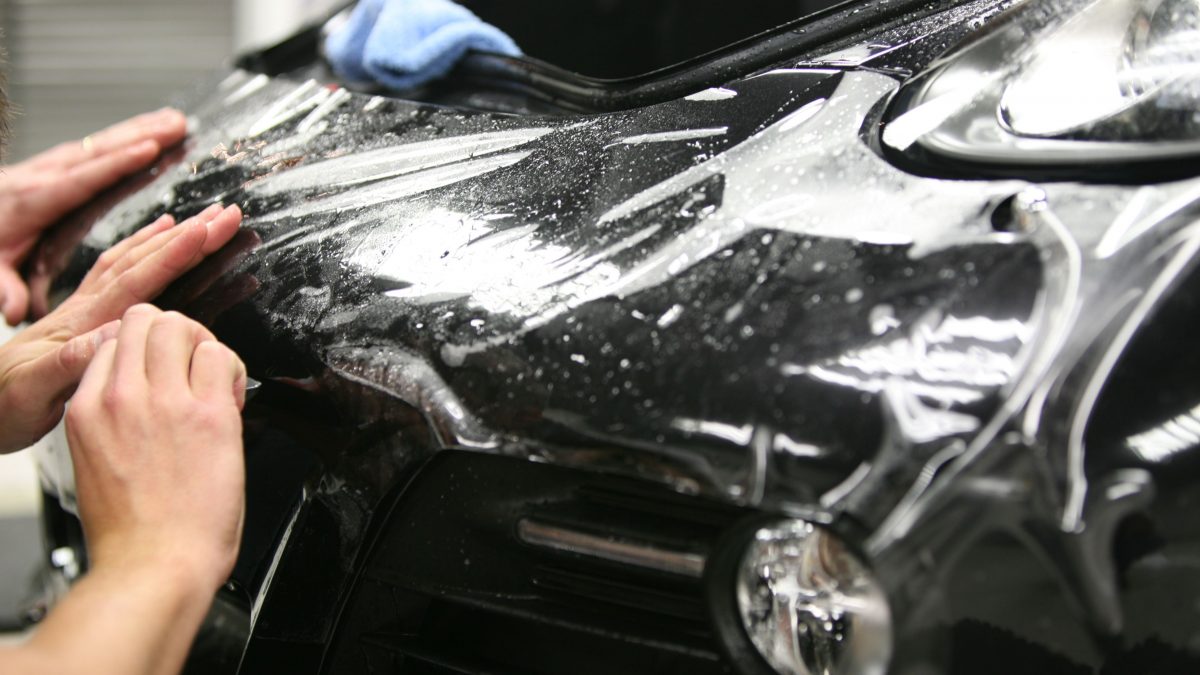 Paint Protection Film – Why Wearing It.
Not all car vinyl wrapping products we use are about changing the look of your car. The paint protection film is all about making sure your car's original style looks better for longer.
What is Paint Protection Film?
We've found our best car paint protection product to be a film from Hexis called Bodyfence.
Its made from clear polyurethane thats ultra resistant to stone chips and road debris.
Paint protection film can be applied anywhere on a car but usually we are asked to use it on the areas that are most susceptible to damage.
Why Use it?
Simply put, it does what it says on the box. It'll add a layer of paint protection to wherever on your car it's applied.
Aerial stone chips and flying gravel just got neutralised.Protect your vehicle's roof and no more bird lime or tree sap stains.
Cover your front bumper and you'll still catch flies but cleaning them off will be so much easier.
It will also maintain the value of your motor when you come to sell. Not having any paint blemishes, scratches or marks is a real plus point.
Car paint protection film is thin enough to hardly be noticeable but is durable enough to stop any debris going through and damaging the paintwork. Available in gloss or matt finishes, protection film can either match your car's original finish or create a different look.
Self-healing paint protection
Most of the films ( Hexis and 3M for definite ) are self healing. What it means is that the paint protection film will regenerate with either help from the sun or hot water.
Any swirls or scratches from the likes of car wash brushes actually disappear.
Its down to the makeup of polyurethane and how it reacts to heat. Not only does it prevent scratches on the actual paintwork but any that you do get on the film aren't there for long either! Clever stuff eh?
The Bodyfence paint protection film we use has a special coating that repels muck and road dust. Cleaning becomes easier as dirt can't stick to it. You can see why we've wrapped full cars in this stuff.
Protection film after-care
Don't use anything containing petroleum distillates as this can affect the adhesive bond. Keep to a ph neutral car wash shampoo and detailing spray and use good quality microfibres to keep clean. If you need any advice, talk to us.
Cost of print protection film
It depends on whether you need just the bumper or bonnet covering or the full front end. It also depends on the size of the panels as larger cars obviously need more film. From a few hundred quid upwards so think about which panels need it the most and go for those first. We can always add to more panels at a later date.
HIRE US
If you want specific details on vehicle wraps, give us a call today or visit our website! We look forward to working with you to assist you with your vehicle wrap.
Concept Wraps provide all forms of vehicle wrapping services. Contact us today to get the best graphics and wrapping services for your vehicle.

Find out more vinyl wrapping works in our Instagram and gallery.