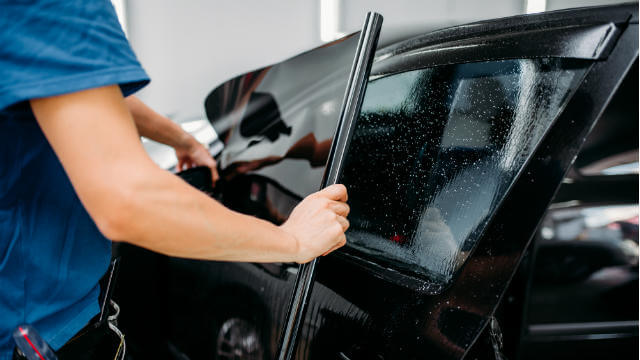 PROS AND CONS OF TINTED CAR WINDOWS
Trying to decide if you should get your car windows tinted? Besides reducing glare and keeping you cooler, tint really helps your car stand out – but there are other things you should be aware of before you commit. We're outlining the pros and cons of tinted car windows, so you can feel confident with your choice.
TINTED CAR WINDOWS PROS
When installed by an expert, window tinting can drastically improve the aesthetics of your vehicle and improve the driving experience. Tinted windows can also be a value-add that improves the attractiveness of your car to future buyers. Here are some benefits.
Lowers the temperature in your car: Especially for warm climates like South Florida, window tinting provides immediate benefits in cooling the interior temperature. Window tint wards off the sun's thermal rays to block heat creation. You'll still be able to see gorgeous sunshine, but you and your passengers won't feel the heat nearly as much. The cooling provided can help you lower your air conditioner use, too.
Blocks UV rays: While you can enjoy the shining sun outside, you can help mitigate damage from ultraviolet rays. The Skin Cancer Foundation reports while windshields are usually treated to block UVA, side and rear windows on a car don't offer this protection. Window tint helps and is recommended by the Skin Cancer Foundation to stay sun-safe.
Increases privacy: Don't like the thought of other drivers or pedestrians being able to watch you while you're in your car? Window tinting shades those inside. Whether you love to sing along to the radio or don't want to have to worry about your appearance in your car, window tinting allows you to go mostly incognito.
Thwarts thieves: This "pro" is especially important around the holidays, after big shopping trips, and when you're transporting an expensive item like a laptop and don't want to have to take it with you for quick trips outside your vehicle. Window tinting help protect you from thieves who might be looking for items to steal from a car. If you use your car to store valuable items for work or for your family, tinting also helps prevent onlookers from seeing what's inside.
Protects your interior: Besides the threat of the sun on your skin, it can also damage your car's seats and interior design. Prevent cracking or fading of your interior's carpets, leather seats and more with window tinting that blocks out elements that can age your vehicle.
Reduces glare: Glare from the sun makes driving more dangerous. Not only can it temporarily impair your ability to see clearly, having to constantly squint or crane your neck so you can see makes for distracted driving. Just like you wear sunglasses outside, window tinting makes driving easier on sunny days – which Florida has a lot of.
TINTED CAR WINDOWS CONS
When you get window tinting from a provider that doesn't have extensive experience, your window tint may become more of a burden than a benefit. Here are some negative aspects to cheap window tinting.
Peeling may occur: Window tinting that is not properly applied, whether because of an inaccurate process or haphazard application, can result in bubbling or peeling over time. Low-quality window tint film that is used can also damage the results. The tint will need to be removed, and new tint will have to be applied.
Poor visibility: The perfect window tint strikes the optimal balance between visibility and shading. Too much tinting can result in poor visibility, especially at night or in dark areas like tunnels, which can be dangerous to the driver and other road passengers and pedestrians. Window tinting should make a car look sleek, not dark and unsightly.
Inexperienced installation may break the law: Each state has different laws regarding window tinting. Only an expert installer will be able to ensure you are up to par and stay safe and legal in the state your vehicle is registered in. If you frequently drive to other states, making sure that your tinting meets the legal standards set forth by the states you're traveling to can help you avoid getting pulled over and questioned by police.
Cheap materials/service cheapens the look: If the quality of the window tint film or application is low, it will show in the vehicle's appearance. Cheap tint and poor application can make your car look unattractive. Fixing poor tinting is more expensive and time-consuming than getting it right the first time.
GET WINDOW TINTING HELP FROM AN EXPERT
Window tinting can elevate the look, feel and comfort of your car when it's added by a trustworthy professional. At Concept Wraps, we love thrilling our customers with beautiful window tintingthat's high-quality and long-lasting. Our experts know the window tinting laws in Florida and we only use the top materials.
To learn more about our premium window tint, Contact us online for window tint information. You can also read more about what makes the best window tint for help deciding which type of film to add to your vehicle.
Find out more PPF and vinyl wrapping works in our Instagram and gallery.