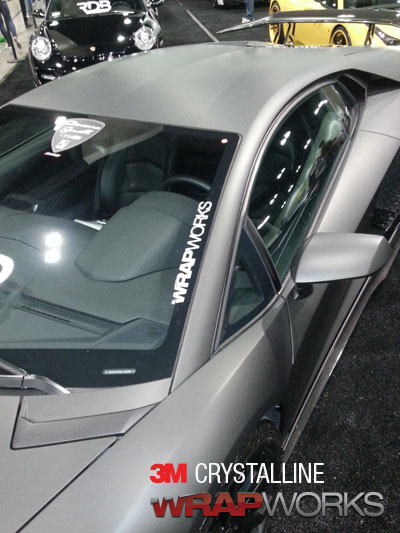 IS 3M CRYSTALLINE WINDOW TINT WORTH IT?
When you select a vehicle, it becomes an extension of you. You choose one that fits your life expectations, including the performance standards, beauty and comfort that you and your family deserve. When it comes to window tints, 3M Crystalline Window Tint is considered one of the top window films on the market today. Even though it comes with the highest performance features, it's also more expensive.
This article will look at how the top window tints stack up, their protective qualities, cost and ultimately answer the question, "Is 3M crystalline costs worth it?"
THE BENEFIT OF WINDOW TINT
Although most vehicles come with window tinting from the manufacturer, the tint is painted on and provides minimal protection. Adding a protective film can increase your vehicle's comfort during summer months while protecting your car's interior.
1. WINDOW TINT BLOCKS UV RAYS
One of the biggest benefits of window tinting is that they block a high percentage of UV rays. This can be especially important in sunny climates. You and your family can remain safe from harmful rays, which could reduce the risk of skin cancer. It also helps maintain the vehicle's interior, saving the dashboard and upholstery from cracks and discoloration.
2. WINDOW TINT HELPS COOL DOWN THE CAR'S INTERIOR
Tinting can also reduce the heat in the vehicle significantly, reducing the burden on your vehicle's air conditioner on the hottest days. If you spend a significant amount of time in your vehicle for your job, tinting can keep you more comfortable during the summer months by helping maintain a cool interior.
3. WINDOW TINT HELPS KEEP YOU SAFE AND ENSURES PRIVACY
The safety of your vehicle is also increased by installing tinting. It can reinforce your window and the risk of shattering glass during an accident.
Heavy tints can also provide privacy, but be careful the heavy coloration doesn't impair your visibility. Increasingly, tints that don't change the color of the windows are available and have similar protective properties of darker tints.
3M CRYSTALLINE WINDOW TINT SPECS
A multi-layer optical film 3M Crystalline combines 200 layers in its film, but is thinner than a Post-It Note, which offers a higher heat rejection than darker film. Its lightest shade blocks a high-level of infrared light and 34 percent of heat. If you'd like to keep your vehicle's look the same while keeping the interior cool, the 3M Crystalline is a great tint film. Its attributes include:
Blocks 99.9 % UV Rays
Reduces heat – up to 97% infrared light rejection
Total solar energy rejected: up to 60
SPF of 1,000+
Reduces glare
No metal and no radio signal interference
Enhances visibility at night
Film doesn't discolor
Lifetime warranty
LLUMAR TINT SPECS
A good ceramic tint, Llumar provides superior heat and UV protection as metallic without the electronic signal-compromising quality of metal tints. Although offering nearly as high of a percentage of UV protection, Llumar does not provide statistics on the level of heat rejection. Some of the qualities that Llumar attributes to its ceramic film are:
Blocks 99%+UV protection
Superior heat protection
Clear and easy connectivity
Helps reduce interior fading
Help increase privacy
Lifetime warranty
SOLAR GARD ULTRA PERFORMANCE PLUS SPECS
Solar Gard takes advantage of nano-ceramics technologies to offer a cooler and more comfortable interior, similar to the 3M Crystalline and Llumar high-performance series. They also offer a clearer option, so you can have a cooler interior without altering the look of your auto's windows. However, they have a limited lifetime warranty. Some benefits include:
Blocks 99%+ UV protection
Blocks infrared light, reducing heat up to 39-degrees F
Total solar energy rejected: 43
Guarantees no color fading
Limited lifetime guarantee
3M CRYSTALLINE WINDOW TINT COSTS
Crystalline is the highest quality 3M tint, a high-technology film that is produced using multilayer nanotechnology, the same process used to improve the brightness in flat panel LCD televisions.  The average 3M Crystalline tint cost starts from $1000.
CONCLUSION: 3M CRYSTALLINE EDGES PAST THE COMPETITION
The features of the 3M Crystalline beats the other two high-performance competitors, by providing higher UV protection and infrared light blocking along with a full lifetime guarantee in comparison to Solar Gard's limited lifetime guarantee.
So, is 3M Crystalline worth it?
We cannot compare costs because the competitors' prices are not published on the internet. However, it's not unreasonable to believe that the cost of premium brands would fall into the higher range of typical tint costs, which makes 3M's slightly higher performance with a lifetime warranty worth the cost.
A knowledgeable product specialist can advise you on the best window tint option to protect your vehicle, family and lifestyle. When it's time to shop for new window tints, Contact us today to get the best wrapping services for your vehicle.
Find out more vinyl wrapping works in our Instagram and gallery.