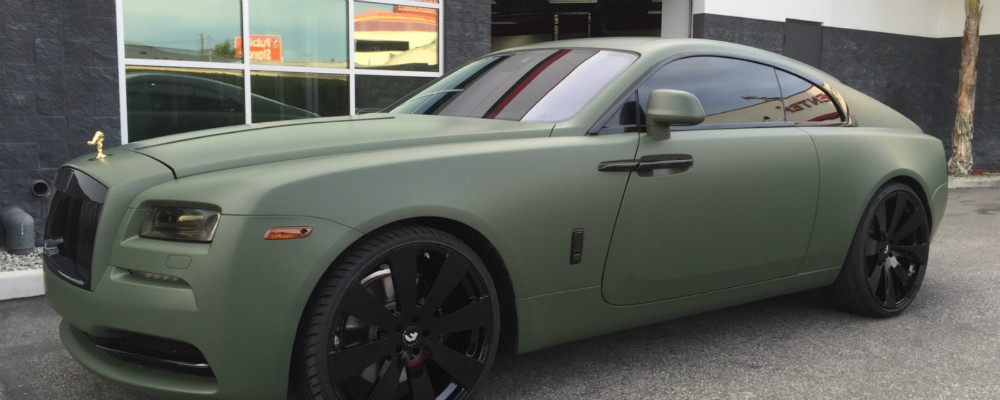 VINYL WRAP TYPES
There are two main vinyl wrap types used: cast vinyl and calendared vinyl. In general, calendared vinyl is best for flat surfaces like posters and wall graphics. It's less heat-resistant and tends to shrink a bit over time, meaning that it's ill-suited for cars that spend their time in the hot sun. However, if you're creating a short-term promotional campaign with your car, calendared vinyl is perfect, and costs less.
Cast vinyl is created using a process that ensures that it doesn't shrink, stretch or otherwise become distorted once it's installed. This means that it's both more durable and easier to install and remove without causing any damage to your vehicle's paint job. Of the two main vinyl wrap types, the majority of our Florida vehicle wraps are done with the 3M cast vinyl.
CAR WRAP VINYL INSTALLATION
After we create your custom vehicle graphics, our wrap installers get to work. They carefully stretch and apply the cast vinyl auto wrap. This process can take a few hours, as you imagine, especially with the time they take on the finer details that your car or other vehicles may have. After the overlapping wrap panels are in place, they use a special laminate film to ensure that your new car vinyl wrap lasts.
It's important to note that at Vehicle Wraps 1, we exclusively use 3M™ vinyl wrap on your car. As an innovator, the company has consistently improved their vinyl wraps, making them more durable than the competition. In Addition, 3M's™ car vinyl wraps material offer a greater variety of textures and looks.
Have more questions about vinyl wrap types and how they're installed? Contact us today. Our vehicle wrap experts can help you make the best decision possible for your needs. We proudly provide our commercial and personal wrapping services to several areas in sydney and Brisbane. We will travel across Australia to our customers as well.