If you're a car owner who takes pride in maintaining the appearance of your vehicle, you've likely heard of paint protection film. Also known as clear bra or PPF, paint protection film is a thin, transparent layer of film that is applied to the exterior of a vehicle to protect its paint from damage caused by various environmental factors. In this article, we will explore what paint protection film is, how it works, and why it's becoming increasingly popular among car enthusiasts and everyday drivers alike.
What Is Paint Protection Film?
Paint protection film like a skin for cars. It is made of polyurethane, urethane, or flexible acrylic. it's carefully applied to some certain areas of a vehicle and provide extra protection against pollutants or damages.
The main function of Paint protection film is to keep your vehicle factory fresh looking miles after miles. PPF is often called "clear bra" because its installation protects the body and vehicle surface from dust and debris on road, weathering and other wear and tear. In addition to that, this film has advanced flexibility, which tightly hugs the curves and contours of the vehicle, and offers easy installation and leaving no visual trace. Unrivaled scratch and stain resistance Exceptional clarity Self-healing technology makes most scratches disappear Tough, durable and maintenance free.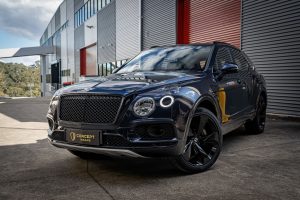 Why Use Paint Protection Film?
For environmental reasons, the paint industry focused on water-based paints. As such they are less durable than ever. Therefore, if the paint is weaker then so will be the coating, which eventually will show signs of scratching and chipping. It is therefore advisable to apply protective film that will keep the original coating in good condition. More reasons to use protective films? The car looks brand new - protective wrapping retains the car's original look, improves the colour saturation of the paint, the car looks like it drove out straight from the show room.
Protect the paint and bodywork - protective film protects the car against external factors such as stone splinters, scratches, discoloration, acidic insect repellent and many other factors. Application without structural changes and repainting - applying the film to the vehicle does not require painting or mechanical interference in the construction. The resale value of the vehicle rises - after a few years the protective film can be removed and the vehicle's paint will look like new, without any damages and scratches.
Where Do I Install Paint Protection Film on My Vehicle?
Paint protection film should be installed by a professional anywhere you want to protect your vehicle finish from scratches, chips, stains and other damage. This film is virtually invisible and will not alter the design or color of your vehicle. Use it to protect: Protection from sand and stones kicked up by tires for Rocker Panels Mirrors, Hoods and bumpers damaged from insect acids, flying gravel and tar Cavities on the door handles and edges from rings, keys, belt buckles and purses Protection of trunk, hood and roof from tree sap and bird droppings.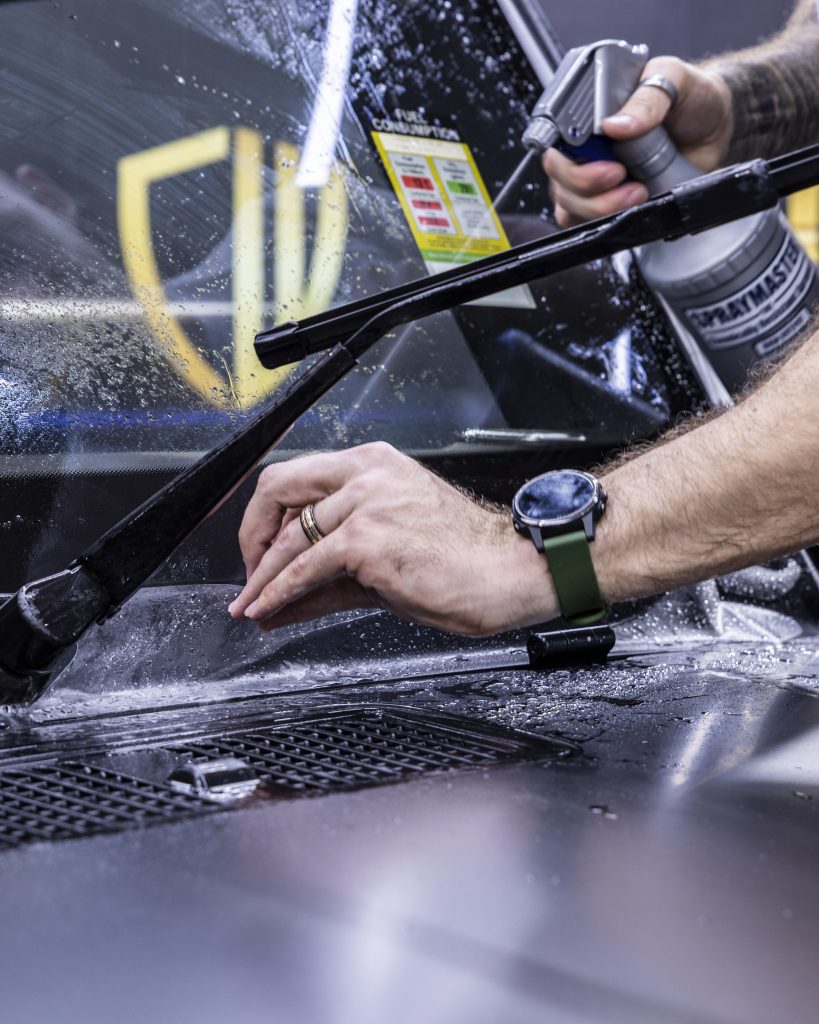 Steps of Paint Protection Film Installation:
1. Preparation of the car
First of all, we will perform full vehicle or partial cleaning, or use clay barsto remove any foreign contaminants that adhere to the vehiclebody. And then check the surface of the car to ensure that no dirt will flow down under the film during the installation process.
2. Cleaning down the painted surface
This step involves thoroughly cleaning the painted surface of the car using a 100% alcohol solution. This step can remove or decompose most of the stains, including tar, wax, and any substances that prevent the paint film from sticking to the paint surface.Afterwards, we will perform waxing and polishing to improve gloss.
3. Allocation of the filmIn the next step, we will install the paint protection film. We will first cut the paint protection film into several pieces as needed according to the shape of the body (in this process, we will use the 2014 Mimaki digital graphics printer and cutting machine). The activator is required for PPF installation, also known as fitting solution.This can help PPF release a "glue" substance. It involves using water and other solutions to manually attach the protective film to the surface of the car paint.
4. Dges inspection
After the paint protection film is installed, we will finally check all the edges, and use a heat gun for final finishing to ensure that everything is trimmed and beautiful.
Benefits of Paint Protection Film
There are several benefits to using paint protection film on your vehicle:
Reduces Maintenance and Repair Costs: Repainting a vehicle can be expensive. Paint protection film can help reduce the need for costly paint repairs by acting as a protective barrier against common causes of paint damage. It can also save you time and effort spent on cleaning and maintenance, as the film makes it easier to remove bugs and contaminants from the surface.
Preserves resale value: A well-maintained paint job can significantly impact the resale value of a vehicle. Paint protection film helps to preserve the integrity of the original paint, preventing damage that can decrease the value of your vehicle over time.
Enhances aesthetics: Unlike traditional protective methods like car bras or vinyl wraps, paint protection film is virtually invisible when applied correctly. It maintains the original appearance of your vehicle's paint, allowing its color and shine to shine through without altering its aesthetics.
Self-healing properties: Paint protection film has self-healing properties that allow it to repair minor scratches and swirl marks on its own over time, ensuring that your vehicle's paint always looks its best.
Long-lasting: High-quality paint protection film can last anywhere from 5 to 10 years or even longer with proper care and maintenance, providing long-term protection for your vehicle's paint and saving you money on frequent touch-ups or repainting.
Easy maintenance: Paint protection film requires minimal maintenance. It can be easily cleaned with regular car wash soap and water, or with a gentle detailing spray. There's no need for special care or products, making it a convenient choice for busy car owners.
Versatility: Paint protection film can be applied to various areas of the vehicle, not just the front end. This means you can customize the level of protection you want for your vehicle, depending on your needs and budget. You can choose to protect high-impact areas like the hood, fenders, and bumper, or extend the coverage to other vulnerable areas like the doors, rocker panels, and rear bumper.
Cost-effective: While the initial cost of applying paint protection film may be higher compared to other protective methods, such as car bras or vinyl wraps, the long-term cost-effectiveness is undeniable. Paint protection film helps prevent costly paint repairs, repainting, or even vehicle depreciation, saving you money in the long run.
Some More FAQs about Paint Protection Film
Here are some frequently asked questions (FAQs) about Paint Protection Film (PPF):
Q: Can Paint Protection Film be removed?
A: Yes, Paint Protection Film can be removed without damaging the vehicle's paint. However, it is recommended to have it removed by a professional installer to ensure that it is done properly and without leaving any residue or damaging the paint underneath.
Q: Can Paint Protection Film be applied to any part of the vehicle?
A: Yes, Paint Protection Film can be applied to various parts of the vehicle, including the hood, fenders, bumpers, mirrors, door edges, and rocker panels. It can also be applied to other areas that are prone to damage, such as headlights, door handles, and trunk sills.
Q: Does Paint Protection Film affect the appearance of the vehicle?
A: Paint Protection Film is designed to be transparent and virtually invisible when applied properly, so it does not significantly alter the appearance of the vehicle. However, close inspection may reveal a slight difference in texture compared to the surrounding paint.
Q: Can Paint Protection Film be applied over existing damage or imperfections in the paint?
A: It is generally recommended to apply Paint Protection Film to a clean, smooth, and undamaged surface for optimal results. Existing damage or imperfections in the paint may affect the performance and appearance of the PPF, so it is best to have the paint in good condition before applying the film.
Q: Is Paint Protection Film a DIY (Do-It-Yourself) project?
A: While there are DIY kits available for applying Paint Protection Film, it is generally recommended to have it installed by a professional installer with experience in handling and applying the film. Professional installation ensures proper fit, alignment, and durability for maximum protection and longevity.
Conclusion
Paint protection film is a smart investment for car owners who want to protect their vehicle's paint from damage caused by environmental factors while maintaining its original appearance. With its durability, self-healing properties, and versatility, paint protection film offers numerous benefits, including protection against road debris, insects, bird droppings, and UV rays, while preserving the resale value of the vehicle. Whether you're a car enthusiast or an everyday driver, consider adding paint protection film to your vehicle to keep it looking like new for years to come.
Hire Us
Concept Wraps provides all forms of vehicle wrapping and protection services. Contact us today to get the best protection for your vehicle. If you want specific details on Paint Protection Film or other car protections, give us a call today or visit our branches! Our Paint Protection Film Sydney and Paint Protection Film Brisbane experts can give you the best solution. We look forward to working with you to assist you with your vehicle.
Feel free to contact us : 1300-418-225
Sydney, Brisbane Car Wrapping Company | Concept Wraps | ACN 620246979
© 2019 - Concept Wraps All Rights Reserved.